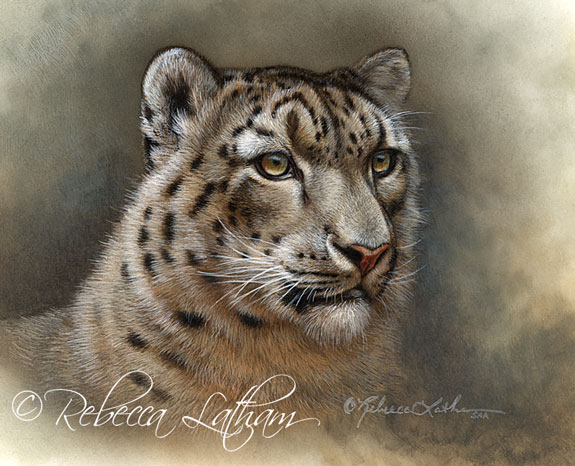 Snow Leopard, watercolor on ivorine, ©Rebecca Latham
I went to a lecture recently themed around conservation.  After the session, one young woman asked the speaker "but why do you bother saving this species?"  If they are so threatened, if it will cost large sums of time, effort, and currency, why bother?  Why care?  It's a losing battle.
She wasn't stating this regarding her own convictions.  She was dedicated to supporting wildlife and environmental causes in need.  However, she receives this stance (apparently regularly) against her support for saving species.
The question remains.  Why do we?
One argument, because humanity has unfortunately aided in their decline to this point.  We push them out of their habitat, clearing land they call home.  Sometimes they have special needs and can't just adapt.  ..or hunting or pet trade has diminished their population.  Are we responsible?  Then shouldn't we be obligated to fix it?
A second point.. as the common idiom states, "Variety is the spice of life".  Do we really want to lose that variety? Forever?
We live in an elaborate web.  All species are connected in some way, with each other, and our environment.  If one loose thread is pulled, one species falls off the map, etc., things begin to unravel in other places.  It has happened already, and sadly, we only see the impact in hindsight. We do not yet fully understand the workings of this vast ecosystem we live in.  Are we really prepared to start willingly pulling threads?
Personally, I am the type that slams on the brakes on the highway for the hen mallard and her seven ducklings crossing the road at midday.  (yes, true story)  ..because, rare or not, they have just as much right to be here as we do.
Do you support conservation?  Why do you 'bother'?