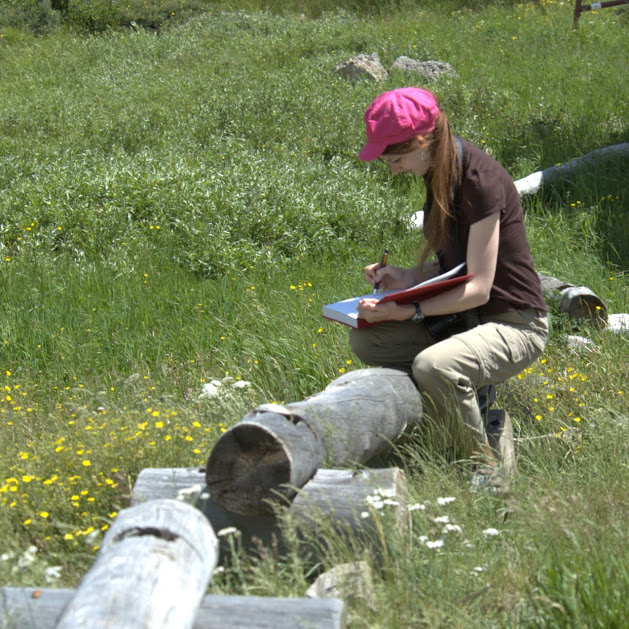 Bonnie Latham began her art career at a very young age. Inspired by her creative family and their love of the outdoors, she paints nature, landscape, animals, birds, and the occasional portrait. She works in watercolour, acrylic, oil, inks, graphite/charcoal and others, however watercolours have become her medium of choice. She achieves a unique quality of depth and shape in her work, drawing the viewer into her paintings. Bonnie works in a assortment of sizes and formats, ranging from larger miniature paintings to very small ones rendered less than one square inch.
Bonnie feels driven by her love of the outdoors and wildlife. She is particularly drawn to render raptors and predators in her artwork, though she enjoys painting all wildlife subjects. Her travels have taken her to countless areas of the United States to study wildlife and habitat first hand. Her dedication to environmental conservation is evident in her paintings and drawings. "The balance of nature is so delicate. I only hope that through my paintings more people will realize that, unless we do our part, nature won't be here for us to enjoy. I enjoy helping wildlife and nature programs in any way I can." She spends as much time as possible studying her subjects. Her knowledge of each species is reflected in her work.
" It's important to see not just the animal, but the the twigs, grass, moss, etc. I try to bring these things into my studio." Through her artwork, Bonnie has raised thousands of dollars for conservation causes and wildlife rehabilitation and is recognized internationally for her talent.
She exhibits her work extensively in the United States and England. She is a member of (MIWAS) Marwell International Wildlife Art Society (England/UK/Europe), (TWASI) The Wildlife Art Society International (England/UK/Australia/Italy/Europe), and is a signature member of the Society of Animal Artists in New York (USA/New York). Bonnie's artwork was featured on the US Fish and Wildlife Service's 2000 Federal Junior Duck Stamp, being selected from 40,000 entries across the United States. She was also named "Artist of the Year" by Minnesota Ducks Unlimited for 2007.
Her work has been shown at numerous art exhibitions including:
Arts for the Parks, Art and the Animal (Society of Animal Artists), the Easton Waterfowl Festival, NatureWorks Art Show & Sale, Southern Wildlife Festival, Kentucky National Wildlife Art Exhibit , Whistle Pik Galleries' Christmas Miniature Show, Miller Gallery's' Objects of Desire Miniature Exhibition, Galleries West Fine Art's (Jackson Hole, Wyoming) Fall Roundup and Natural Inspirations – a three artist show featuring Bonnie and her family as well as their miniature art exhibition Little Jewels, Horizon Fine Art Gallery's (Jackson Hole, Wyoming) It's A Small World and several three artist shows featuring Bonnie and her family, Decoys & Wildlife Gallery's (Frenchtown, New Jersey – near NYC) Fall Show & Shoot (Guest Artist).
She has also shown her paintings in several international miniature art exhibitions including:
The Papermill International Miniature Art Exhibition in New Jersey (where her work received an Award of Excellence), The Hilliard Society of Miniaturists Exhibition in Wells (England/United Kingdom), and several others.
On a personal note:
A few years ago I was diagnosed with Peutz-Jaghers Syndrome (a rare life long condition). I've had multiple surgeries. I'm grateful for my friends and family that have been so supportive through everything. Am doing well and busy painting.  ~ "Live Every Moment, Laugh Every Day, Love Beyond Words"